Camp Planet D
Overnight Camp | Specialty Camp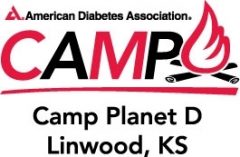 The American Diabetes Association's Camp Planet D is a one-week residential camp held each July at the Tall Oaks Conference Center in Linwood, Kansas. ADA Camp Planet D serves up to 135 children, ages 7-15 living with Type 1 diabetes. Most campers live in or near the Kansas City metropolitan area and surrounding communities in Kansas and Missouri. Besides the typical camp activities, such as swimming, horseback riding, and arts and crafts, campers participate in daily interactive diabetes education from endocrinology health professionals from Children's Mercy Hospital and Clinics. Campers learn diabetes self-management skills including the importance of a healthy diet and active lifestyle. They also learn to be more independent in their diabetes management while at camp. Most importantly, they are able to interact with other children and camp staff who relate to the challenges of living with diabetes. They are one person in a crowd of people who are, "just like me."
The ADA uses a number of methods to capture both quantitative and qualitative information about our campers and their camp experience.
A pre-camp evaluation of diabetes management skills is completed as part of each camp application and is used to determine a baseline for each camper. Once baseline is established, camp staff utilizes group interactions, one-on-one instruction, teachable moments and observation to increase knowledge level and modify behavior.
Post-camp evaluations are completed by camp medical staff, parents, and campers. Campers and parents are asked qualitative questions such as what they liked best and least about camp as well as questions used as a comparison measure against pre-camp skills and behaviors to determine the success of the program's goals, objectives, and outcomes.
Contact
Lora Furstner
7285 W. 132nd St. ste.160
Overland Park, KS 66213

Phone: (913) 383-8210