Heartland Therapeutic Riding Camp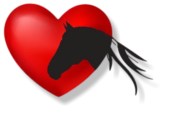 Heartland Therapeutic Riding All-Abilities Horsemanship Camp is a week-long camping experience for children ages 8-13 who have disabilities and their able-bodied, more typically developing peers. The campers are divided into groups allowing them to rotate through the following stations and experiences; Crafts, Learning/Games, Barn Time, and Riding. The campers are exposed to many aspects of horsemanship which can include nutrition, health and wellness, riding tack and maintenance, riding skills, grooming and horse care, etc.
Our campers learn all aspects of horsemanship in an environment that accounts for physical, cognitive, and emotional challenges. Instructors set goals with each camper at the beginning of the week with regard to riding skills they want to learn. Horsemanship skills are taught and tested through games, crafts, and other activities. We see changes in behavior, self-confidence, as well as, improvement in riding skills and horsemanship knowledge.
One young rider had the opportunity to go to the opening of one of the Royals' special needs ballparks but was upset he had to miss camp to go!
One parent said camp was a life-changing experience for her young rider who has significant physical challenges.
Contact
Bonnie Bruns
PO Box 391
Stilwell, KS 66085

Phone: (913) 897-3939