AileyCamp
ACA Accredited Camp | Day Camp | Specialty Camp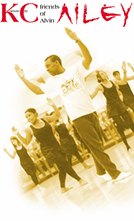 The primary goal of Kansas City Friends of Alvin Ailey (KCFAA) is to make dance accessible to all people. To help accomplish this goal, KCFAA implements AileyCamps (AC), KCFAA's awarding winning, signature program for middle school students. Much more than dance programming, Ailey Camp provides students' experiences to develop in areas of social-emotional skill building, enhancing coping skills, strengthening relationships and community engagement.
The physically demanding camps will serve up to 100 students at each camp location. Each year, AileyCamps take on a different theme such as UNIQUE in 2021. Activities include daily dance instruction (ballet, modern and jazz dance), personal development class where students discuss relevant topics and build on their conflict resolution and coping skills, and creative expression class (spoken word, poetry, etc.). The LCSW camp counselor and personal development class instructors are of the Latinx and African American communities and have been with the program ranging from 5 – 18 years. Campers meet Monday through Friday from 7am – 2:45pm over a six-week period during summer school. They receive full tuition and are outfitted with backpacks, T-shirts, shorts, leotards, school supplies, various sets of dance shoes, breakfast and lunch, and transportation at no cost to them or their families.
Campers are separated by age into 4 groups (C, A, M, and P,) and will stay with their group for the duration of camp. Ballet classes emphasize posture; carriage; alignment; strength; flexibility; style; and placement of the arms, legs, and torso. Jazz classes emphasize accelerated, syncopated, and isolation movements, as well as free expression to rhythm. In modern dance, campers explore movement through space by running, jumping, and using different dynamics and imagery; emphasis is especially placed on the importance of warming-up and injury prevention.  Tap dance focuses on basic steps  with complex rhythms. Students learn the importance of discipline, hard work, and commitment. Personal Development classes encourage the development of positive self-concepts, wise decision-making, and healthy lifestyle habits and cover a wide range of topics from a middle school age perspective. Recently that included:
Covid-19- Feelings on Social Distancing / Continuous Learning / Wearing Masks
Hygiene, Healthy Habits
Self Esteem Building, Self-Respect, Positive Self-Concepts
Empathy /Bullying
Coping Skills/ Stressors
Conflict Resolution
Control
Identifying Emotions/Suicide Prevention/Awareness
Drug and Alcohol Prevention/Awareness
Puberty
Team Building
At the conclusion, Campers then showcase their accomplishments in a professional theater setting at the" Final Performance," a free event for families and the community.
AC recruitment begins in the spring where KCFAA makes applications available in both English and Spanish at school facilities and online at the KCFAA website.  Applicants and parents or guardians receive a one on one in-person interview (and ZOOM if necessary, that help staff gather pertinent information such as living situations and program buy in. Children and youth ages 11 – 14 primarily from extremely low-come backgrounds (100% of KCMO campers are eligible for free and reduced lunch) and historically excluded communities (72% are African American, 20% are Latino and 89% are girls) are the primary beneficiaries of AileyCamp. Camp classroom instructors and group leaders represent artists and staff of color who are former AileyCampers themselves, and they serve as strong role models.
Working in partnership with school districts, KCFAA host one camp in Missouri at the Paseo Academy for Fine and Performing Arts in KCMO and the other in Kansas at Gloria Willis Middle School in KCK. The camps incorporate the best in dance training for students who would otherwise not have the opportunity and helps children and youth develop skills that impact their success in life. AileyCamp is about:
Growing up strong, healthy, and ready to take on the world.
Appreciation of the cultural and recreational resources in Kansas and Missouri and making use of them.
Hard work, having fun, developing self-discipline of the body and the mind, learning new things about one's self, learning about others, and learning about our world.
To ensure AileyCamp is accessible and remains free for low income and extremely low-income students, we count on support from foundations, individuals, and government and corporate grant support. The Camps for Kids matching grant provides opportunities for individuals to support AileyCamp by investing with a first-time gift or an increased gift. The funding is critical to AileyCamp success!
Camp Wish List:
15 Six-Week Camperships @$1,500 each 
$22,500
200 AileyCamp Uniforms (tights, shorts, bag, leotard) @$49
$9,800
50 Tap Shoes @$35 each     
$1,750
180 Ballet Slippers @$12 each  
$2,160
360 Camp T-Shirts @$5 each
$2,520
Total
$38,730
Contact
Melissa Taylor
1714 E 18th Street
Kansas City, MO 64108

Phone: (816) 471-6003 Ext. 3