Camp Hope & Camp Sibsational
ACA Accredited Camp | Overnight Camp | Specialty Camp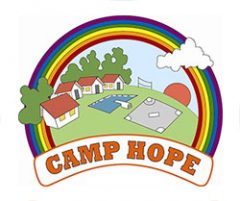 Camp Hope  –  From the beginning, our goal has been to support families living with, through and beyond the cancer experience and we are expanding our services to reach more people. 
Our primary program, Camp Hope will continue as it has been for 37 years.  It is a camp for children ages 5-17 that have or have had cancer.  We also know that cancer affects the entire family which is why in July 2019 we held our first camp for siblings of cancer patients and survivors, Camp SIBsational!  This is the first camp of its kind in the region and we are super excited about the opportunities it will offer siblings. 
Camp provides these kids with a traditional summer camp experience that might otherwise be denied them due to their illness and special needs. Campers are able to participate in a wide variety of activities such as swimming, bowling, golfing, fishing, basketball, crafts, horseback riding and more. There is a 24- hour on-site medical team that consists of pediatricians, family physicians, nurses, a pharmacist and a mental health specialist, and a 24-hour on-call pediatric oncologist. We typically have 90-100 volunteers and 70-90 campers each year.
Our campers become more confident and optimistic. They are able to interact with other children who have been through a similar situation already or are going through it now currently. They realize that they are not alone in their ordeal. They often leave camp with more hope about the future. We rely on camper and parent testimonials, as well as formal camp evaluations, to measure our outcomes and how much Camp Hope affects the lives of our attendees.
Contact
Bryan Wohlwend, MD
PO Box 1529
Great Bend, KS 67530-1529

Phone: (816) 582-3116