Camp Milton
Overnight Camp | Specialty Camp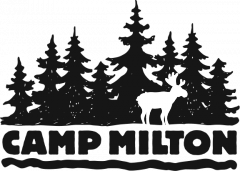 The mission of Camp Milton is to provide an empowering and enriching environment in which children with neuromuscular diseases can be supported in their journey of personal development being part of a community that fosters impactful experiences and a sense of belonging.
Camp Milton provides a week long overnight camp at Tall Oaks Conference Center in Linwood, KS for children ages 6-17 that have a neuromuscular disease.
Camp Milton, a program of the Neuromuscular Access Initiative, was started in 2018 when our summer camp, run by a different organization, was closed.
At Camp Milton we work to develop relationships, build confidence, and show kids that "yes, you can!". Traditional camp activities include swimming, archery, zip line, and horseback riding. Our camp also has special traditions that kids count on being a consistent part of their "Best week of the year!", those being – a talent show, a dance, bonfire songs with s'mores, along with the beloved arts and crafts.
All of the facilities at Camp Milton are wheelchair accessible and the camp is run by compassionate and skilled volunteers. Our volunteer to camper ratio is 1:1. It is because of these volunteers and their dedication to our wonderful campers that we get to call every camp experience at Camp Milton "the best week of the year."
Campers are given a fun environment where they are able to develop social skills in an immersive, safe, and exciting way. Socializing with their peers can often be difficult in other environments, such as school, because their diagnosis can often create social barriers that stem from children that do not have disabilities so they are not able to relate to the campers' life experiences.
Camp offers a better quality of life by creating a familial support system and increasing feelings of happiness and being understood by the people who invest in them. Campers often refer to the week of camp as the "best week of the year" and many have also said that camp is "better than Christmas." Due to Camp Milton recently being managed by Neuromuscular Access Initiative after no longer being funded by its previous sponsoring organization, new and more comprehensive ways of measuring camper satisfaction are in development.
"I will always be grateful for camp allowing Alex to be himself. He loves this camp, the consistent staff, the consistent campers, and the many, many, many friends he has made over the years… At camp, he does not have to pretend. For once he can be himself. Using a wheelchair or crutches or having a dog is ok because everyone else has some of these. No being left out, no stares or whispers, no pity. He can just have fun." -Mari, parent of Camp Milton Camper
"Camp was a place I could run and play like a normal kid. I could go swimming, horseback riding, and zip lining. I could do as many arts and crafts as I wanted. I could dance my heart out at countless spontaneous dance parties and have the most fun a kid could ever have. For me though, my favorite part was the people. It sounds corny to say in a short week, complete strangers could become family, but it's true. We're a group of kids that can come together and be with other kids just like us. It becomes our home." – Josie, Camp Milton Graduate