Camp Quality
Overnight Camp | Specialty Camp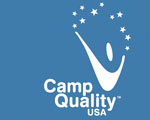 Camp Quality Greater Kansas City is a local chapter of a nationwide non-profit organization dedicated to serving children with cancer or children with rare blood disorders, and their families, by providing year-round programs, experiences, and companionship, at no cost to those we serve. Camp Quality promotes hope and inspiration while helping children foster life skills and develop their full potential. 
Our signature event is a week-long summer camping experience where every camper is paired 1:1 with a volunteer companion who is dedicated completely to his or her care, which is something that makes Camp Quality truly unique. Each volunteer is trained so they can fulfill their primary responsibility of making sure the campers have the most enjoyable, safe, relaxing, and restoring experience possible. Oftentimes, this relationship creates a bond that continues long after camp is over, even in the years to come. 
Camp Quality utilizes volunteers in other areas too such as crafts, fishing, photography, lifeguarding, and programs. Camp Quality provides an on-site medical staff of professional nurses day and night throughout the week of camp who communicate directly with the on-call physician who oversees the camp medical care. 
You can find Camp Quality participants enjoying a variety of activities such as swimming, fishing, boating, making crafts, making jewelry, playing games, making s'mores and enjoying campfire stories, or marveling at a special guest entertainer. Participants also enjoy a dance and a talent show each year as well as activities that tie in to the theme for the week of camp. Camp Quality is the place where kids with cancer can be kids again. The week of summer camp is hosted at Lake Maurer in Excelsior Springs, MO.
In addition to our signature summer camp experience, Camp Quality GKC has hosted Every Day A Hero resource fair prior to the pandemic and continues to host a Holiday Party, and Mom's and Dad's Nights Out. Our Camp Quality Region works collaboratively to host a Sibling Retreat, Teen Weekend, and a Spring and Fall Family Camp. We have been creative and kept the magic and power of camp alive through the pandemic by transitioning to virtual events when necessary while still providing a level of connection that only camp can provide.
We are also proud to partner with other like minded organizations within the community and beyond to raise awareness for childhood cancer and support the children and families we serve.
We are proud recipients of a 4-star rating from Charity Navigator for six consecutive years. We are also proud to be recognized as a Gold Ribbon Camp by COCA-I (Children's Oncology Camping Association-International). We are volunteer driven and community funded and are so thankful to be a part of a thriving Greater Kansas City community.
Camp Wish List:
75 camperships @ $1,000 each
$75,000
300 Memory Books @ $9 each
$2,700
Family Weekend
$7,500
2 Reunion Events @ $2,500
$5,000
2 Storage Units @ $900
$1,800
Total
$92,000
Contact
Crystal Davison
3111 SE 3rd St.
Lee's Summit, MO 64063

Phone: (816) 244.6912