Camp Erin
Day Camp | Overnight Camp | Specialty Camp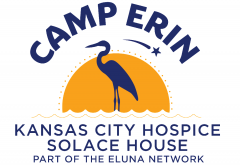 Camp Erin Kansas City Day Camp 
Saturday July 15, 2023 at Lake Doniphan Retreat Center (Excelsior Springs, MO)
Camp Erin Kansas City Overnight Camp 
September 15 – 17, 2023 at Heartland Center Campgrounds (Parkville, MO)
Camp Erin® Kansas City Family Camp is a bereavement camp for those who are grieving the death of a significant person in their lives. Families with children and teens attend a day or weekend camp experience that combines grief education and emotional support with fun, traditional camp activities.
Led by bereavement professionals and caring volunteers, campers are provided a safe environment to explore their grief, learn essential coping skills, and connect with peers who are also grieving. Camp Erin is for families who are several months past their loss at the time of camp.
Camp Erin provides a safe place to:
Tell their story in a safe environment
Learn they are not alone
Process grief in healthy ways
Honor and memorialize loved ones
Build a toolbox of coping skills
Have fun!                                                
Your donation will help ensure Camp Erin is available at no cost to participants. Camp is for families with children and teens ages 6 to 17 and offers music, art projects, games, camp fires, pet therapy, hikes and more.
 "Moments are heavy and emotional, but being surrounded by people who relate
and understand you is so helpful and healing. You are not alone.
We are all figuring this out together."  — 2022 Camper
 "It's a great opportunity for kids and parents to learn we are not alone in our grief. It is nice being with others who are sensitive to our grief process and 'get it'."  — 2022 Camper