Heartland Therapeutic Riding Camp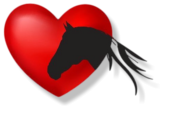 Heartland Therapeutic Riding's Hearts and Hooves Summer Camp is a week-long camping experience for children ages 8-13 with and without special needs. The campers are divided into small groups allowing them to rotate through the following stations and experiences: Riding Lessons, Arts and Crafts, and inclusive games and activities. The campers are exposed to many aspects of horsemanship which includes riding, horse card, and grooming. 
Our campers learn all aspects of horsemanship in an environment that accounts for physical, cognitive, and emotional challenges. Instructors set goals with each camper at the beginning of the week with regard to riding skills they want to learn. We see changes in behavior, self-confidence, as well as, improvement in riding skills and horsemanship knowledge.
Contact
Bonnie Bruns
PO Box 391
Stilwell, KS 66085

Phone: (913) 897-3939