Whatsoever Youth Summer Program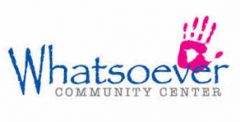 Whatsoever Community Center's Summer Camp partners with youth to provide opportunities for academic enrichment, social development, and most importantly, forming connections with the larger community. Summer is filled with cultural arts, project based learning activities, boy's and girl's leadership clubs, and service learning. Youth build, plant, and harvest a community garden. They learn to prepare healthy lunches and snacks each day. WY Productions, a youth led film company, teaches media literacy through documentary, animation, and experimental film-making. Youth learn about science and literacy through academic project based learning. Service Learning is a major component of summer programming. Youth plan and implement service projects such as neighborhood clean-ups, mural painting, and food drives. The summer program is supplemented with educational, cultural, recreational field trips, and an annual camp-out. WCC's Summer Camp is reviewed and funded by Heart of America United Way, as well as Jackson County COMBAT.
Participants in WCC's Summer Camp learn valuable life skills and gain experiences they would not have access to otherwise. Youth grow in positive identity and gain social skills. Outcomes are measured by attendance and participation. A program impact survey measures participant attitudes. Staff encourage and facilitate cooperation. We are happy to report another successful summer camp. In 2018 we served 52 campers.
In summer 2018, 5 youth led projects were completed successfully. The campers planned, implemented, and reflected on the following projects: girl's fashion show, boy's carwash/pizza/movie party, community garden, end of summer talent/art show, exploring the past project (Independence Square Scavenger Hunt). They also completed one community service project volunteering at a nursing home, and cleaned up our neighborhood park. During reflection activities, camper reported being proud of their accomplishments. Girl's who participated in the fashion show commented on feeling beautiful. Each day harvesting the garden was like a treasure hunt. Youth proudly prepared their hard earned produce. For their last field trip of the summer, campers wanted to learn to read a map. They created a scavenger hunt for Independence historical square. The hunt included 4 history museums and President Truman's home. They also chose to learn more about civil war history and planned a field trip to The John Wornall House Museum.
Camp Wish List:
50 Camperships for 10 week session @ $300 each
$12,500
T-shirts for each camper, 50 @ $10 each
$500
50 Field trips for each camper @ $33
$1,600
Parent Involvement Event
$350
Total
$14,950
Contact
Charlie Gascich
1201 Ewing Avenue
Kansas City, MO 64126

Phone: (816) 231-0227